Destination Kenya
In a Nutshell
The original safari destination and in many ways the best. The easiest and cheapest to get around independently and, due to the huge choice of accommodation, some of the cheapest safaris. Probably also the busiest but, with a sophisticated infrastructure and with many little-visited gems outside of the well-known parks for the experienced traveller, it is still the ideal safari destination for the African novice. Less ageing African Queen and more reclaiming its title as undisputed heavyweight champion of the safari world.

Climate
Jan

Feb

Mar

Apr

May

Jun

Jul

Aug

Sep

Oct

Nov

Dec

27
45
28
35
27
85
26
152
25
125
24
34
23
15
23
18
26
22
27
48
26
130
25
75
(average high temp in degrees c and average rainfall in mm) for Nairobi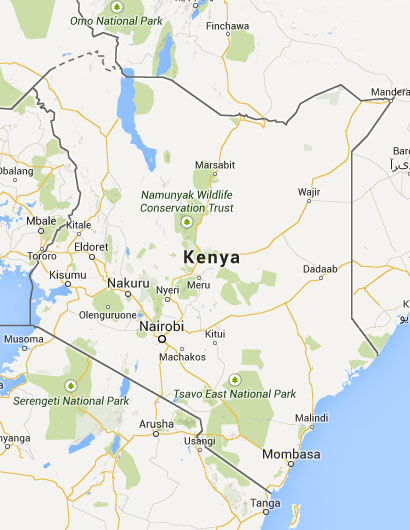 Facts
Size: 582,650 Sq Km
Population: 34.3m
Capital: Nairobi
Flying Time: Nairobi 8 hours 45 mins
People: Mainly Kikuyu (22%), also Luhya, Luo, Kalenjin and others
Languages: Kiswahili (national), English (official), plus multiple ethnic languages
Major Industries: tourism, agricultural/horticultural/petroleum products, small scale consumer goods, tea, coffee
Currency: Kenyan shilling (KSh)
Visa: Required for UK passport holders
Time: GMT +3
Budget: From £2000 for 2 weeks
Background
Kenya straddles the Equator on the eastern coast of Africa and borders Tanzania, Uganda, Somalia, Sudan and Ethiopia. It contains the Great Rift Valley, Mount Kenya - Africa's second highest peak - and famous wildlife parks in the Masai Mara, Tsavo and Amboseli. Kenya is notable for its geographical variety from low-lying fertile coastal regions to dry savannah and thorn bush regions and high plateaux to semi-arid desert in the North. The climate also varies from tropical humidity and dry heat to the cool alpine air of the higher regions. There are two rainy seasons.
Kenya is 2.4 times bigger than the UK.
The 54 National Parks and Reserves comprise around 8% of the country.

| | | |
| --- | --- | --- |
| | Principal Parks and Reserves | |
| | • Masai Mara NR | • Meru NP |
| | • Tsavo East and West NP's | • Lake Nakuru NP |
| | • Amboseli NP | • Mount Kenya NP |
| | • Samburu NR | |

Highlights
Wildebeest and zebra migration in the Masai Mara
Rift Valley Lakes which attract a staggering variety of birds
Fishing for Nile perch in Lake Victoria and Lake Turkana
Indian Ocean coastline - Lamu, Mombassa and Malindi - with palm-fringed white sandy beaches
Amboseli National Park with views of snow-capped Mount Kilimanjaro
Activities
• Game drives and walks
• Sailing
• Boat trips
• Ballooning
• Hiking and trekking
• Cycling
• Climbing
• Horseback safaris
• Fishing
• Camel safaris
• Scuba diving and snorkelling
• Golf
Best for
• Safari and beach combinations
• Widest choice of accommodation
• First time safaris
• Traditional tribes people
• Camping
• Good chance of seeing the Big Five
When to go: All year and Dec-Mar and Jul-Oct are best. Dec-Mar = best fishing
• Mar-Jun and Nov = low season
• Dec-Feb and Jul-Oct = peak season
• Oct-Apr = summer, May-Sep = winter
• Apr-May and Nov-mid Dec = rains
• Mar & Oct = driest, Apr & Nov = wettest
• Mar & Oct = hottest, Jun & Jul = coolest
• Jul-Aug and end Oct = migration
• Jul-Oct = best game-viewing