Destination Tanzania
In a Nutshell
A wonderful safari destination with some of Africa's finest wilderness areas and greatest wildlife concentrations. Often referred to as the "Cradle of Mankind", Tanzania is less visited than Kenya except for the touristy northern circuit and still offers the chance to top off a safari with a few days at a fabulous Indian Ocean beach.

Climate
(average high temp in degrees c and average rainfall in mm) for Lusaka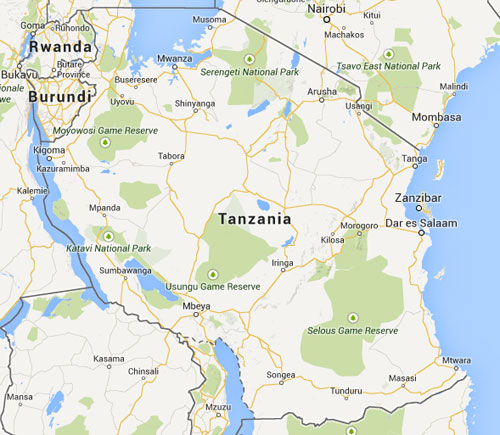 Facts
Size: 945,087 Sq Km
Population: 37m
Capital: Dodoma
Flying Time: Dar es Salaam 9 hours 45 mins
People: Sukuma, Masai, Haya, Gogo, Nyamwezi, Chagga & others
Languages: Kiswahili (official). English is the second official language
Major Industries: textiles, agribusiness, mining, oil refining, light manufacturing
Currency: Tanzanian shilling (TSh)
Visa: Required for UK passport holders
Time: GMT +3
Budget: From £2450 for 2 weeks
Background
Tanzania lies south of the Equator in East Africa and borders Kenya, Malawi, Zambia, Mozambique, Rwanda, Burundi, Uganda and the Democratic Republic of Congo. It is the largest country in East Africa dominated by Mount Kilimanjaro - Africa's highest mountain. It has a predominantly tropical climate but with significant regional variations. The coast is hot and humid year round, whilst the interior is hot and dry and the mountains and higher plateaux are semi-temperate.
Tanzania is 3.9 times bigger than the UK.
The 12 National Parks and 16 Game Reserves comprise around 25% of the country.
| | | |
| --- | --- | --- |
| | Principal Parks and Reserves | |
| | • Serengeti NP | • Lake Manyara NP |
| | • Ngorongoro Conservation Area | • Selous GR |
| | • Ruaha NP | • Tarangire NP |
| | • Mikumi NP | • Kilimanjaro NP |
| | • Mahale Mountains NP | • Katavi NP |

Highlights
Wildebeest and zebra migration in the Serengeti
Mount Kilimanjaro - the highest mountain in Africa
Ngorongoro Crater - the 8th natural wonder of the world
Olduvai Gorge - with its large quantity of fossil remains
Indian Ocean coastline - Zanzibar, Pemba, Mafia Islands - steeped in Arab and Swahili history
Chimpanzee-watching in the Mahale Mountains
| | | |
| --- | --- | --- |
| | Activities | |
| | • Game drives and walks | • Game drives and walks |
| | • Hiking and trekking | • Climbing |
| | • Fishing | • Scuba diving and snorkeling |
| | • Sailing | • Kayaking |
| | • Horseback safaris | • Waterskiing |

Best for
Climbing (Mount Kilimanjaro)
Largest concentration of wildlife in the world during the Migration
Tracking chimpanzees
Wilderness safari destinations
The Big 5 in one small area (Ngorongoro Crater)
Islands of Zanzibar, Pemba and Mafia
When to go: All year but Jul-Oct and Dec-Mar (North only) are best
• Mar-Jun = low season
• Jan-Feb and Jul-Oct = peak season
• Oct-Apr = summer, May-Sep = winter
• Mar-May and Nov-mid Dec = rains
• Oct-Mar = hottest, Jun-Sep = coolest
• Jun-Oct = driest, Apr = wettest
• Apr-Jun and Nov-Dec = migration
• Jul-Sep & Jan-Mar = best climbing Kilimanjaro